2ND STAGE: AJAPNYAK-DAVTASHEN
2015-11-10
On the first day of the 2nd stage of the 10th School Chess Olympiad the school teams of Ajapnyak and Davtashen administrative districts were competing.
The team of N 198 school of Ajapnyak district (Ara Eroyan, Haik Paytyan, Gagik Mkrtchyan, Inna Poghosyan - players, Kamalyan Marina - representative) became the winner.
N 131 and N 155 schools of Ajapnyak district took respectively the 2nd and 3rd places.
For more photos please click here.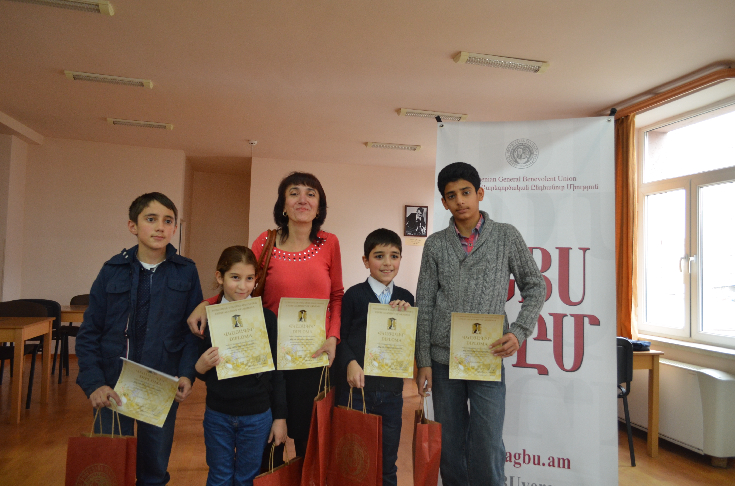 Final ranking
| | | | | | | | |
| --- | --- | --- | --- | --- | --- | --- | --- |
| Rank | Team | Gam. | + | = | - | MP | Pts. |
| 1 | 168 հ/դ | 7 | 7 | 0 | 0 | 14 | 22½ |
| 2 | 131 հ/դ | 7 | 6 | 0 | 1 | 12 | 20 |
| 3 | 155 հ/դ | 7 | 4 | 1 | 2 | 9 | 19½ |
| 4 | 192 հ/դ | 7 | 3 | 3 | 1 | 9 | 16½ |
| 5 | 200 հ/դ | 7 | 4 | 1 | 2 | 9 | 16½ |
| 6 | 146 հ/դ | 7 | 4 | 1 | 2 | 9 | 16 |
| 7 | 153 հ/դ | 7 | 4 | 1 | 2 | 9 | 16 |
| 8 | 22հ/դ | 7 | 4 | 0 | 3 | 8 | 15 |
| 9 | 185 հ/դ | 7 | 3 | 2 | 2 | 8 | 14 |
| 10 | 122 հ/դ | 7 | 3 | 1 | 3 | 7 | 16½ |
| 11 | 188 հ/դ | 7 | 3 | 1 | 3 | 7 | 15 |
| 12 | 93 հ/դ | 7 | 3 | 1 | 3 | 7 | 14 |
| 13 | 156 հ/դ | 7 | 3 | 1 | 3 | 7 | 10 |
| 14 | 199 հ/դ | 7 | 3 | 1 | 3 | 7 | 10 |
| 15 | 196 հ/դ | 7 | 2 | 2 | 3 | 6 | 13½ |
| 16 | 102 հ/դ | 7 | 1 | 4 | 2 | 6 | 12 |
| 17 | 100 հ/դ | 7 | 2 | 2 | 3 | 6 | 11½ |
| 18 | 111 հ/դ | 7 | 2 | 2 | 3 | 6 | 9 |
| 19 | 126 հ/դ | 7 | 2 | 1 | 4 | 5 | 12 |
| 20 | 138 հ/դ | 7 | 2 | 1 | 4 | 5 | 8 |
| 21 | 108 հ/դ | 7 | 2 | 1 | 4 | 5 | 7 |
| 22 | Միջ․ որակ․ դպ․ | 7 | 2 | 0 | 5 | 4 | 6½ |
| 23 | Շահամիրյան կրթ․ | 7 | 1 | 1 | 5 | 3 | 7 |