2ND STAGE: MALATIA-SEBASTIA
2015-11-13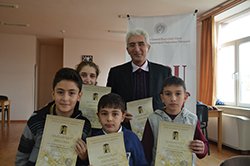 Today 18 school teams of Malatia-Sebastia district were competing in the frames of the 2nd stage of the 10th School Chess Olympiad.
The team of N 162 school (Hakob Sarukhanyan, Hamlet Brutyan, Davit Nalbandyan, Jasmen Asatryan - players, Ruben Martirosyan - representative) became the winner.
The teams of "Hay Krtutyun" educational foundation and N 191 school took respectively the 2nd and 3rd places.
For more photos please click here.
Final Ranking
| | | | | | | | |
| --- | --- | --- | --- | --- | --- | --- | --- |
| Rank | Team | Gam. | + | = | - | MP | Pts. |
| 1 | 162 հ/դ | 6 | 6 | 0 | 0 | 12 | 22 |
| 2 | Հայ կրթություն | 6 | 4 | 1 | 1 | 9 | 14 |
| 3 | 191 հ/դ | 6 | 3 | 2 | 1 | 8 | 14 |
| 4 | 176 հ/դ | 6 | 3 | 1 | 2 | 7 | 15 |
| 5 | 11 հ/դ | 6 | 3 | 1 | 2 | 7 | 13½ |
| 6 | 89 հ/դ | 6 | 2 | 3 | 1 | 7 | 13½ |
| 7 | Մ․Սեբաստացի | 6 | 3 | 1 | 2 | 7 | 13½ |
| 8 | 152 հ/դ | 6 | 3 | 0 | 3 | 6 | 12 |
| 9 | 92 հ/դ | 6 | 3 | 0 | 3 | 6 | 12 |
| 10 | 174 հ/դ | 6 | 3 | 0 | 3 | 6 | 11½ |
| 11 | 113 հ/դ | 6 | 2 | 2 | 2 | 6 | 11 |
| 12 | 116 հ/դ | 6 | 1 | 3 | 2 | 5 | 12 |
| 13 | 121 հ/դ | 6 | 1 | 3 | 2 | 5 | 10½ |
| 14 | 90 հ/դ | 6 | 1 | 2 | 3 | 4 | 11 |
| 15 | 179 հ/դ | 6 | 1 | 2 | 3 | 4 | 9 |
| 16 | 181 հ/դ | 6 | 1 | 2 | 3 | 4 | 9 |
| 17 | 91 հ/դ | 6 | 1 | 1 | 4 | 3 | 7 |
| 18 | Երևակ | 6 | 1 | 0 | 5 | 2 | 5½ |