2ND STAGE: QANAQER-ZEYTUN - AVAN
2015-11-16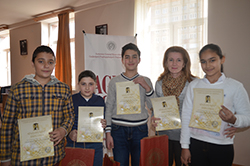 Today 20 school teams of Qanaqer-Zeytun and Avan districts were competing in the frames of the 2nd stage of the 10th School Chess Olympiad.
The team of Physics and Mathematics specialized school attached to Yerevan State University (Vachagan Dilanyan, Levon Mkrtchyan, Sahak Petrosyan, Anna Tovmasyan - players, Armine Araqelyan - representative) became the winner.
The teams of Usum and N 117 schools took respectively the 2nd and 3rd places.
Members of N 8 special educational complex for children with speech impairments were awarded participation certificates.
For more photos please click here.
Final Ranking
| | | | | | | | |
| --- | --- | --- | --- | --- | --- | --- | --- |
| Rank | Team | Gam. | + | = | - | MP | Pts. |
| 1 | Ֆիզմաթ | 6 | 5 | 1 | 0 | 11 | 19 |
| 2 | Ուսում | 6 | 4 | 1 | 1 | 9 | 17½ |
| 3 | 117 հ/դ | 6 | 4 | 0 | 2 | 8 | 16½ |
| 4 | 171 հ/դ | 6 | 3 | 2 | 1 | 8 | 15½ |
| 5 | 180 հ/դ | 6 | 3 | 2 | 1 | 8 | 15 |
| 6 | 125 հ/դ | 6 | 3 | 2 | 1 | 8 | 14½ |
| 7 | 48 հ/դ | 6 | 3 | 2 | 1 | 8 | 14 |
| 8 | 147 հ/դ | 6 | 3 | 1 | 2 | 7 | 14 |
| 9 | 44 հ/դ | 6 | 3 | 1 | 2 | 7 | 13 |
| 10 | 87 հ/դ | 6 | 3 | 0 | 3 | 6 | 12½ |
| 11 | 136 հ/դ | 6 | 2 | 2 | 2 | 6 | 11½ |
| 12 | 177 հ/դ | 6 | 3 | 0 | 3 | 6 | 10 |
| 13 | 59 հ/դ | 6 | 3 | 0 | 3 | 6 | 10 |
| 14 | 84 հ/դ | 6 | 2 | 1 | 3 | 5 | 13 |
| 15 | Բյուրական | 6 | 2 | 1 | 3 | 5 | 9 |
| 16 | 104 հ/դ | 6 | 2 | 0 | 4 | 4 | 12 |
| 17 | 85 հ/դ | 6 | 1 | 1 | 4 | 3 | 9 |
| 18 | Ադամյան | 6 | 1 | 1 | 4 | 3 | 7 |
| 19 | 124 հ/դ | 6 | 1 | 0 | 5 | 2 | 4½ |
| 20 | 8 հատուկ | 6 | 0 | 0 | 6 | 0 | 1½ |