2ND STAGE: NOR NORK - NORK-MARASH
2015-11-17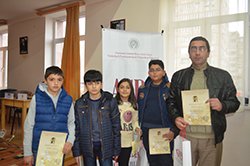 Today 21 school teams of Nor Nork and Nork Marash districts were competing in the frames of the 2nd stage of the 10th School Chess Olympiad. Before the start of the game talented pupils of Anania Shirakatsy Armenian National Lyceum welcomed the participants (video).
The team of N 164 school (Davit Davtyan, Eduard Grigoryan, Lenik Manukyan, Lida Manukyan - players, Ara Poghosyan - representative) became the winner.
The teams of N 135 and N 106 schools took respectively the 2nd and 3rd places.
For more photos please click here.
Final Ranking
| | | | | | | | |
| --- | --- | --- | --- | --- | --- | --- | --- |
| Rank | Team | Gam. | + | = | - | MP | Pts. |
| 1 | 164 հ/դ | 6 | 5 | 1 | 0 | 11 | 16½ |
| 2 | 135 հ/դ | 6 | 4 | 1 | 1 | 9 | 16½ |
| 3 | 106 հ/դ | 6 | 4 | 1 | 1 | 9 | 16 |
| 4 | 88 հ/դ | 6 | 4 | 1 | 1 | 9 | 15½ |
| 5 | 166 հ/դ | 6 | 4 | 0 | 2 | 8 | 15½ |
| 6 | Շիրակացի ճեմարան | 6 | 3 | 2 | 1 | 8 | 15½ |
| 7 | 197 հ/դ | 6 | 3 | 1 | 2 | 7 | 14 |
| 8 | 186 հ/դ | 6 | 3 | 1 | 2 | 7 | 13 |
| 9 | 141 հ/դ | 6 | 3 | 1 | 2 | 7 | 11 |
| 10 | 134 հ/դ | 6 | 3 | 0 | 3 | 6 | 15 |
| 11 | 163 հ/դ | 6 | 2 | 2 | 2 | 6 | 12 |
| 12 | 157 հ/դ | 6 | 3 | 0 | 3 | 6 | 10½ |
| 13 | 150 հ/դ | 6 | 2 | 1 | 3 | 5 | 10½ |
| 14 | 187 հ/դ | 6 | 2 | 1 | 3 | 5 | 10½ |
| 15 | 143 հ/դ | 6 | 2 | 1 | 3 | 5 | 10 |
| 16 | 61 հ/դ | 6 | 2 | 1 | 3 | 5 | 10 |
| 17 | Էլիտա | 6 | 2 | 1 | 3 | 5 | 10 |
| 18 | 133 հ/դ | 6 | 2 | 0 | 4 | 4 | 11 |
| 19 | 26 հ/դ | 6 | 2 | 0 | 4 | 4 | 8 |
| 20 | Օլիմպոս | 6 | 1 | 2 | 3 | 4 | 8 |
| 21 | Հ/Մ | 6 | 1 | 0 | 5 | 2 | 3 |