2ND STAGE: EREBUNI-NUBARASHEN
2015-11-19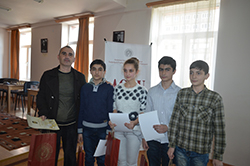 On the last day of the 2nd stage of the 10th School Chess Olympiad 23 school teams of Erebuni-Nubarashen district were competing .
The team of N 119 school (Shant Sargsyan, Hakob Sayan, Vardges Hovhannisyan, Liana Grigoryan - players, Sahak Parvanyan - representative) became the winner.
The teams of N 49 and N 123 schools took respectively the 2nd and 3rd places.
For more photos please click here.
Final ranking
| | | | | | | | |
| --- | --- | --- | --- | --- | --- | --- | --- |
| Rank | Team | Gam. | + | = | - | MP | Pts. |
| 1 | 119 ա/դ | 7 | 7 | 0 | 0 | 14 | 23½ |
| 2 | 49 հ/դ | 7 | 4 | 2 | 1 | 10 | 17 |
| 3 | 123 հ/դ | 7 | 4 | 2 | 1 | 10 | 16 |
| 4 | 35 հ/դ | 7 | 4 | 1 | 2 | 9 | 17 |
| 5 | 60 հ/դ | 7 | 4 | 1 | 2 | 9 | 17 |
| 6 | 194 հ/դ | 7 | 3 | 3 | 1 | 9 | 16½ |
| 7 | 178 հ/դ | 7 | 3 | 2 | 2 | 8 | 17 |
| 8 | 45 հ/դ | 7 | 3 | 2 | 2 | 8 | 16½ |
| 9 | 160 հ/դ | 7 | 3 | 2 | 2 | 8 | 16 |
| 10 | Վարդանանք | 7 | 4 | 0 | 3 | 8 | 14½ |
| 11 | 17 հ/դ | 7 | 2 | 3 | 2 | 7 | 15 |
| 12 | 68 հ/դ | 7 | 3 | 1 | 3 | 7 | 15 |
| 13 | 70 հ/դ | 7 | 2 | 3 | 2 | 7 | 15 |
| 14 | 107 հ/դ | 7 | 3 | 1 | 3 | 7 | 14 |
| 15 | 95 հ/դ | 7 | 3 | 1 | 3 | 7 | 13½ |
| 16 | 64 հ/դ | 7 | 3 | 1 | 3 | 7 | 12 |
| 17 | 120 հ/դ | 7 | 3 | 0 | 4 | 6 | 14 |
| 18 | 47 հ/դ | 7 | 2 | 1 | 4 | 5 | 11½ |
| 19 | 167 հ/դ | 7 | 2 | 1 | 4 | 5 | 10 |
| 20 | 34 հ/դ | 7 | 2 | 1 | 4 | 5 | 9½ |
| 21 | 6 հ/դ | 7 | 2 | 1 | 4 | 5 | 9 |
| 22 | 175 հ/դ | 7 | 2 | 0 | 5 | 4 | 5½ |
| 23 | 101 հ/դ | 7 | 1 | 1 | 5 | 3 | 7 |