2nd Stage: Shengavit
2016-11-14
Today (14/11/16), 27 school teams of Shengavit district were competing in the frames of the 2nd stage of the 11th School Chess Olympiad. The following schools took places.
3rd place - school N 66
2nd place - school N 74
1st place - school N 137
Grigoryan Gor
Yeganyan Arman
Yeghiazaryan Tigran
Jivanyan Meri
Qocharyan Arthur - representative.
The winner team will participate in the 3rd stage of School Chess Olympiad.
All the photos of the tournament see here.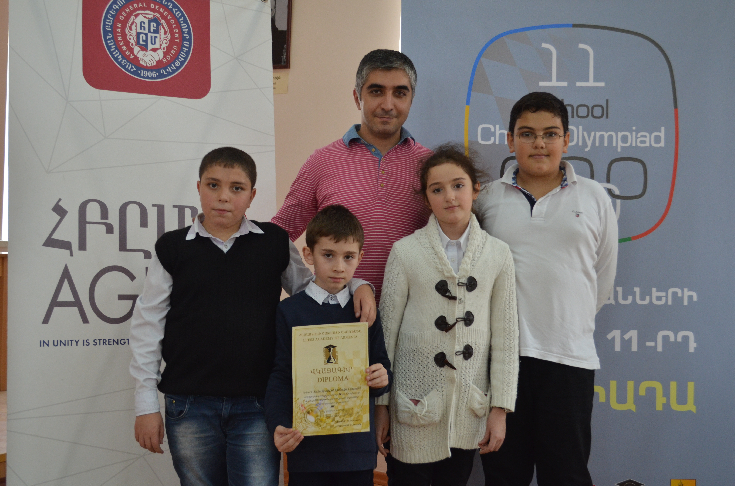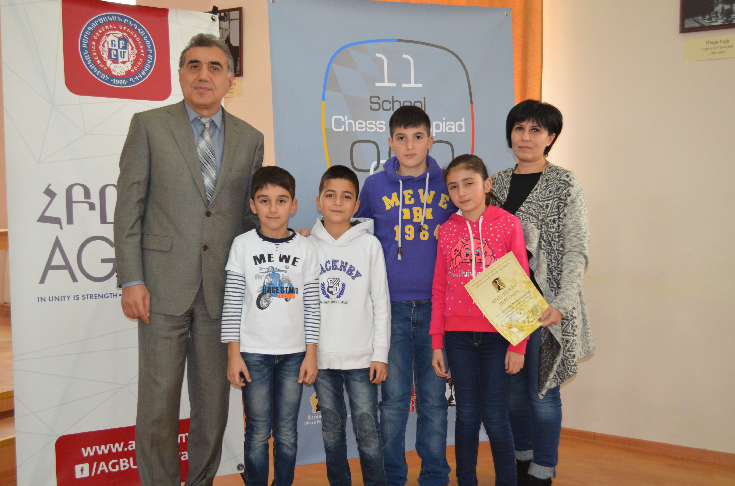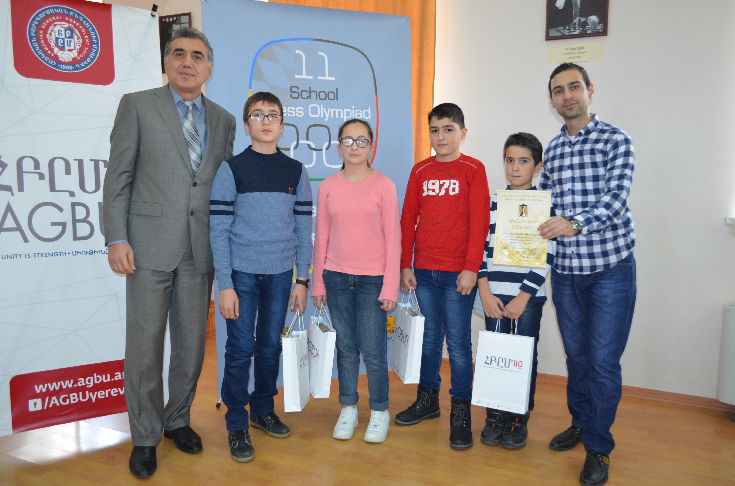 Final rankinng
| | | | | | | | |
| --- | --- | --- | --- | --- | --- | --- | --- |
| Rank | Team | Gam. | + | = | - | MP | Pts. |
| 1 | School N 137 | 7 | 7 | 0 | 0 | 14 | 22½ |
| 2 | School N 74 | 7 | 4 | 2 | 1 | 10 | 18½ |
| 3 | School N 66 | 7 | 5 | 0 | 2 | 10 | 18 |
| 4 | School N 31 | 7 | 4 | 2 | 1 | 10 | 16½ |
| 5 | School N 38 | 7 | 4 | 1 | 2 | 9 | 17½ |
| 6 | School N 173 | 7 | 4 | 1 | 2 | 9 | 17 |
| 7 | School N 158 | 7 | 4 | 1 | 2 | 9 | 16½ |
| | School N 161 | 7 | 3 | 3 | 1 | 9 | 16½ |
| 9 | School N 154 | 7 | 4 | 0 | 3 | 8 | 17½ |
| 10 | School N 98 | 7 | 3 | 2 | 2 | 8 | 15½ |
| 11 | School N 69 | 7 | 3 | 2 | 2 | 8 | 15 |
| | Quantum | 7 | 3 | 2 | 2 | 8 | 15 |
| 13 | School N 50 | 7 | 3 | 1 | 3 | 7 | 15 |
| 14 | School N 99 | 7 | 2 | 3 | 2 | 7 | 14½ |
| 15 | School N 169 | 7 | 2 | 3 | 2 | 7 | 13½ |
| 16 | School N 110 | 7 | 3 | 1 | 3 | 7 | 12 |
| 17 | School N 27 | 7 | 1 | 4 | 2 | 6 | 13 |
| 18 | School N 18 | 7 | 2 | 2 | 3 | 6 | 11½ |
| 19 | School N 144 | 7 | 2 | 2 | 3 | 6 | 10½ |
| 20 | School N 79 | 7 | 1 | 3 | 3 | 5 | 13 |
| 21 | School N 75 | 7 | 2 | 1 | 4 | 5 | 12½ |
| 22 | School N 52 | 7 | 2 | 1 | 4 | 5 | 11½ |
| 23 | School N 140 | 7 | 2 | 1 | 4 | 5 | 10 |
| | School N 32 | 7 | 2 | 1 | 4 | 5 | 10 |
| 25 | School N 12 | 7 | 2 | 1 | 4 | 5 | 9½ |
| 26 | School N 86 | 7 | 2 | 0 | 5 | 4 | 8½ |
| 27 | Poqrik Ishkhan | 7 | 2 | 0 | 5 | 4 | 7 |