2nd Stage: Nor Nork & Nork Marash
2016-11-17
Today (17/11/16), 22 school teams of Nor Nork and Nork Marash districts were competing in the frames of the 2nd stage of the 11th School Chess Olympiad. The following schools took places.
3rd place - school N 88
2nd place - school N 166
1st place - school N 135
Abrahamyan Armen
Petrosyants Argishti
Abrahamyan Armen
Hakobyan Mariam
Martirosyan Gagik - representative.
The winner team will participate in the 3rd stage of School Chess Olympiad.
All the photos of the tournament see here.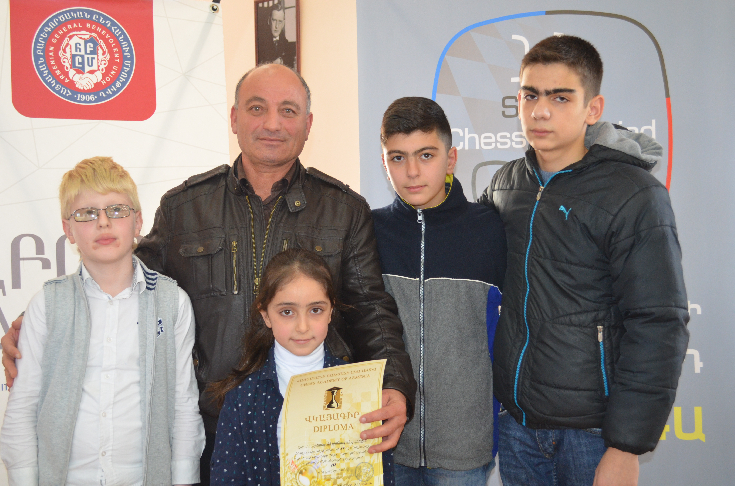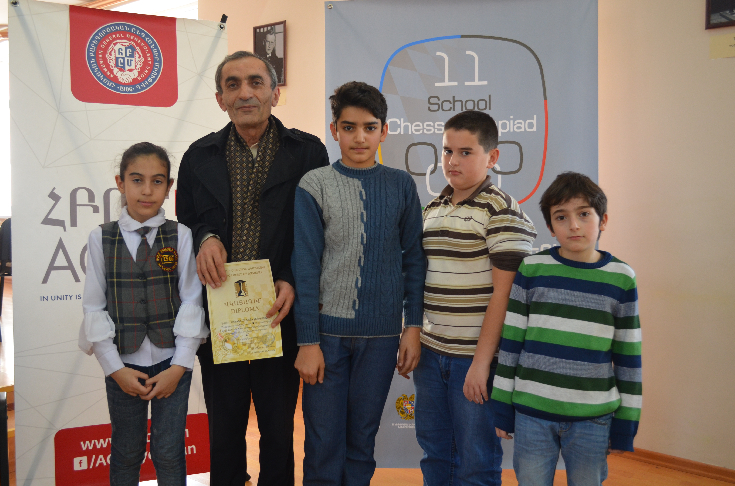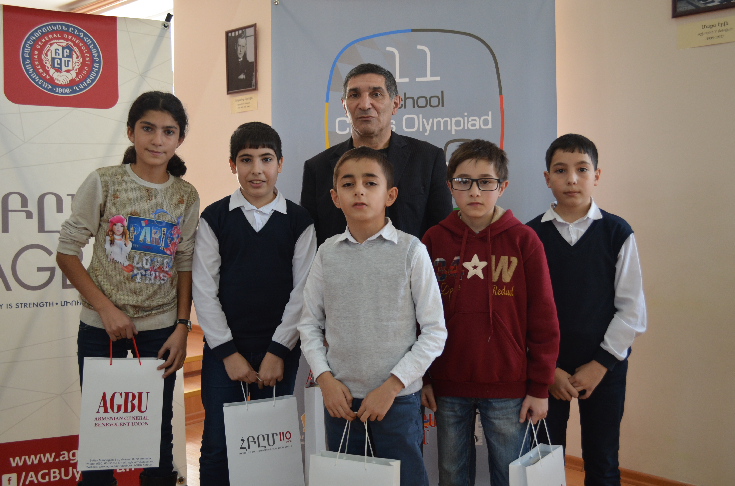 Final rankinng
| | | | | | | | |
| --- | --- | --- | --- | --- | --- | --- | --- |
| Rank | Team | Gam. | + | = | - | MP | Pts. |
| 1 | School N 135 | 6 | 6 | 0 | 0 | 12 | 21 |
| 2 | School N 166 | 6 | 5 | 0 | 1 | 10 | 16½ |
| 3 | School N 88 | 6 | 4 | 0 | 2 | 8 | 17 |
| 4 | School N 186 | 6 | 3 | 2 | 1 | 8 | 15½ |
| | School N 187 | 6 | 4 | 0 | 2 | 8 | 15½ |
| 6 | School N 164 | 6 | 3 | 2 | 1 | 8 | 13 |
| 7 | School N 106 | 6 | 2 | 3 | 1 | 7 | 14 |
| 8 | School N 134 | 6 | 2 | 3 | 1 | 7 | 13½ |
| 9 | School N 133 | 6 | 3 | 1 | 2 | 7 | 12½ |
| 10 | School N 150 | 6 | 2 | 2 | 2 | 6 | 15 |
| 11 | A. Shirakaci | 6 | 2 | 2 | 2 | 6 | 14 |
| 12 | School N 141 | 6 | 2 | 2 | 2 | 6 | 13 |
| 13 | School N 163 | 6 | 2 | 2 | 2 | 6 | 11 |
| | Elita | 6 | 2 | 2 | 2 | 6 | 11 |
| 15 | School N 197 | 6 | 2 | 2 | 2 | 6 | 10½ |
| 16 | Olympos | 6 | 2 | 1 | 3 | 5 | 10½ |
| 17 | School N 143 | 6 | 2 | 0 | 4 | 4 | 8½ |
| 18 | H. Matevosyan | 6 | 2 | 0 | 4 | 4 | 8 |
| 19 | School N 157 | 6 | 2 | 0 | 4 | 4 | 7 |
| 20 | School N 26 | 6 | 1 | 0 | 5 | 2 | 6½ |
| 21 | Antikyan | 6 | 0 | 1 | 5 | 1 | 6 |
| 22 | School N 61 | 6 | 0 | 1 | 5 | 1 | 4½ |