Closing Ceremony of the Final Stage of the 11th School Chess Olympiad
2017-05-06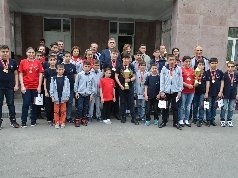 The closing ceremony of the final stage of the 11th School Chess Olympiad took place on May 6.
Best results were awarded with prizes, gifts, cups, medals and diplomas.

Individual Results:
1st chessboard – Sargis Sargsyan with 17/17 point
2nd chessboard – Georgi Nanyan with 16.5/17 point
3rd chessboard – Samvel Khachatryan with 17/17 point
4th chessboard – Astghik Hakobyan with 17/17 point
Team Results:
School N55 after A. P. Chekhov took the 1st place (59.5 points) and gained tickets for "Belaya Ladya" tournament, also known as White Rook, which will be held in Sochi (Krasnodar Region, Russia) from June 1-9, 2017.
Team composition
1. Davtyan David
2. Nanyan Georgi
3. Khachatryan Samvel
4. Hovhannisyan Mane
5. Misakyan Samvel – representative
Vagharshapat Basic School N12 took the 2nd place (47.5 points)
Team composition:
1. Sargsyan Gor
2. Grigoryan Hayk
3. Hovhannisyan Artyom
4. Hakobyan Astghik
Andreasyan Hovhannes – representative
Parpi Secondary School took the 3rd place (47.5 points)
Team composition:
1. Petrosyan Yurik
2. Gevorgyan Aram
3. Galstyan Arsen
4. Yedigaryan Asya
Gevorgyan Ashot/Markaryan Emil – representatives
Final Results see here.
All the photos of this event see here.