The second stage of the 16th School Chess Olympiad: Ajapnyak and Davtashen
2022-05-12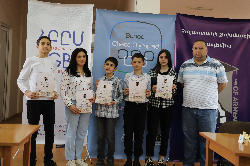 Today, on May 12 at the Chess Academy of Armenia were competing 22 school teams of Ajapnyak and Davtashen administrative district.
The following schools took places:
3rd place - school N 155
2nd place - school N 168
1st place - school N 199
Winning team members are:
Gyurjinyan Valter
Aghabekyan Mher
Ayvazyan Artur
Poghosyan Nane
Zalibekyan Ani - representative.
The winner team will participate in the 3rd stage of 16th School Chess Olympiad.