The second stage of the 16th School Chess Olympiad came to the end
2022-05-24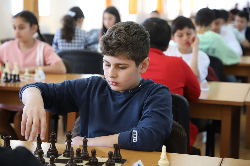 Thus, the second stage of the 16th School Chess Olympiad came to the end in RA.
The winner teams will participate in the 3rd stage of 16 School Chess Olympiad.

Let's remind that the 3rd stage will take place from September 25 to October 10 2022.
Below you can see the results of the Regions and Yerevan.



Yerevan
1
Malatia-Sebastia
N 181 basic school
2
Achapnyak/Davtashen
N 199 basic school
3
Erebuni/Nubarashen
N 35 basic school
4
Arabkir
N 130 basic school
5
Nor Nork/Nork-Marash
N 135 basic school
6
Kentron
N 19 basic school
7
Qanaqer-Zeytun/Avan
N 177 basic school
8
Shengavit
N 161 basic school
Regions
N
Region
District
The winners
1
Shirak
Gyumri
Foton college

Gyumri N 7 basic school

Gyumri N 11 basic school
Artik
Nor Kyanq secondary school
Akhuryan
Akhuryan N 1 basic school
Ani
Bagravan Secondary school
Ashocq
Ashocq secondary school
Amasia
Amasya seconodary school
2
Gegharquniq
Chambarak
Chambarak N 1 school
Sevan
Sevan N 3 school
Vardenis
Vardenis N 4 school
Martuni
Vardeniq educational complex
Gavar
Gavar N 2 school
3
Aragatsotn
Talin
Mastara secondary school
Aparan
Aparan N 2 school
Ashtarak
Ashtarak N 5 school
4
Lori
Stepanavan
Stepanavan N 2 school
Tashir
Tashir N 1 basic school
Alaverdi
Alaverdi N 12 school
Vanadzor - Gugarq
Vanadzor N 4 school

Vanadzor N 8 school
Spitak
Spitak N 1 basic school
5
Armavir
Ejmiatsin
Ejmiatsin N 4 school
Armavir
Armavir N 5 school
Baghramyan
Metsamor basic school
6
Vayoc Dzor
Jermuk
Maqsim Gorki's N 1 school
Vayq
Vayq basic school
Eghegnadzor
Eghegnadzor N 1 and N 2 schools
7
Tavush
Ijevan
Ijevan N 5 school
Berd
Artsvaberd basic school
Dilijan
Dilijan central school
Noyemberyan
Noyemberyan N 2 school
9
Kotayq
Hrazdan
Hrazdan N 12 school
Abovyan
Abovyan N 5 school

Abovyan N 7 school
Charencavan
Charencavan N 3 basic school
Eghvard
Nor Hach@n N 1 basic school
10
Ararat
Artashat
Mkhchyan secondary school
Masis
Masis N 3 school
Vedi, Ararat
Vedi N 2 school
11
Syuniq
Meghri
Agarak secondary school
Kapan
Kapan N 7 school
Sisian
Sisian N 1 school
Qajaran
Qajaran N 1 school
Goris
Goris N 1 school