The final stage of the 14th School Chess Olympiad
2020-12-11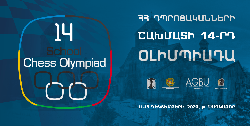 The final stage of the 14th School Chess Olympiad will take place on December 11-13 in Tsaghkadzor. The tournament is being held by the Chess Academy of Armenia, with the help of the Ministry of Education and Science of RA, "Writer's House" hotel complex, and the Armenian General Benevolent Union.
In the final stage of the Olympiad the strongest 8 teams representing Yerevan, all regions of Armenia, Republic of Javakheti are going to compete for the title of the winner. Those are:
Yerevan basic school № 55
Yerevan basic school № 130
Yerevan basic school № 181
Yerevan basic school № 35
Gyumri "Photon" college
Ashtarak basic school № 4
Hrazdan basic school № 12
Special PhysMath School
The tournament will be held in the Olympiad system.