Yerevan Basic School N181 became the winner of the Final Stage of the 15th School Chess Olympiad
2021-10-30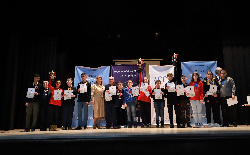 Final stage of the 15th School Chess Olympiad came to the end yesterday in Gyumri, Armenia. 16 school teams from all regions of RA and Republic of Artsakh were competing for the title of the winner.

Basic school 181 from Yerevan school took the first place. It should be noted that last year this team became the winner of the 14th Olympiad.
Team composition:
Navoyan Gagik
Oghulukyan Arsen
Araqelyan Manvel
Bondarenko Viktorya

Yerevan number 11 school took second place.

Team composition:
Agasarov Benik
Kudryashev Edgar
Stepanyan Alvard
Mirzoyan Elen
Elite author secondary school came third place.

Team composition:
Hayrapetyan Edgar
Hakobyan Valeri
Hakobyan Ruben
Hayrapetyan Nvard

For the best individual and team results, the participants were awarded with monetory prizes, gifts, cups, medals and certificates.
During the closing ceremony Vice President of the Armenian Chess Fedetarion, Founder of the Chess Academy of Armenia Smbat Lputian and Inesa Margaryan, head of Special Programs of AGBU. greeted participants and granted them with medals, cups and presents.
Special thanks to the sponsors of the Olympiad for this beautiful chess event.
Congratulations again to all the winners and good luck in the upcoming tournaments.

Final Results:
https://chess-results.com/tnr587376.aspx?lan=1