Special Training for Chess Teachers
2016-05-30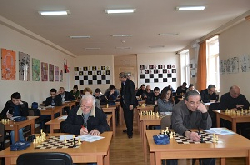 Final discussions and training courses-2016 of Chess teachers will be launched on May 31, 2016 in all regions of RA and Yerevan.
All chess teachers of the region attend to the discussions.
Those teachers whose certificate is out of date, and those who are registered for the certificate take part in the training courses.
The seminars are conducted by the Psychologists and Methodists of Chess Academy of Armenia.
Schedule
Kotayk Marz
31.05 - 02.06
Armavir Marz - Armavir City
01.06 - 03.06
Armavir Marz - Ejmiatsin City
04.06 - 06.06
Tavush Marz
09.06 - 11.06
Vayots Dzor Marz
09.06 - 11.06
Gegharkunik Marz
11.06 - 16.06
Yereavan
13.06 - 14.06
Aragatsotn Marz
14.06 - 16.06
Ararat Marz
15.06 - 17.06
Lori Marz
18.06 - 20.06
Syunik Marz
18.06 - 23.06
Shirak marz
27.06 - 29.06